Chang'e or Chang-o, originally known as Heng'e, is the Chinese goddess of the Moon.
She is the subject of several legends in Chinese mythology, most of which incorporate several of the following elements: Houyi the archer, a benevolent or malevolent emperor, an elixir of life, and of course, the Moon. In modern times, Chang'e has been the namesake of the Chinese Lunar Exploration Program.
Space Travel
Chinese Lunar Exploration Program
Chang'e was mentioned in a conversation between Houston Capcom and the Apollo 11 crew just before the first Moon landing in 1969:
Houston: Among the large headlines concerning Apollo this morning, is one asking that you watch for a lovely girl with a big rabbit. An ancient legend says a beautiful Chinese girl called Chang-O has been living there for 4,000 years. It seems she was banished to the Moon because she stole the pill of immortality from her husband. You might also look for her companion, a large Chinese rabbit, who is easy to spot since he is always standing on his hind feet in the shade of a cinnamon tree. The name of the rabbit is not reported.
Michael Collins: Okay. We'll keep a close eye out for the bunny girl.
Chang'e 1, 2 and 3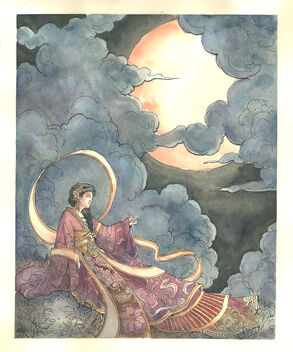 In 2007, China launched its first lunar probe, a robotic spacecraft named Chang'e 1 in the goddess' honour. A second unmanned probe, named Chang'e 2, was launched in 2010. A third Chang'e spacecraft, a robotic lunar rover dubbed Chang'e 3, landed on the moon on Saturday, Dec. 14, 2013 at about 9:12 p.m., Beijing time, making China only the third country in the world to achieve such a Moon feat after the former Soviet Union and the United States. The lander also delivered the robotic rover Yutu ("Jade Rabbit") to the lunar surface to begin its months-long driving mission. It has performed the first lunar soft landing since the Russian Luna 24 mission in 1976.