Geneva Robertson-Dworet is an American screenwriter.
She is attached to write the screen play for Artemis with Lord and Miller as directors.
Robertson-Dworet rose to prominence after being hired in 2015 to rewrite the script for Tomb Raider (2018), starring Alicia Vikander and directed by Roar Uthaug.
In August 2017, she was set to write the screenplay for Marvel Studios female-led superhero film Captain Marvel (2019).
She will write the screenplay for David Ayer's Gotham City Sirens film, as part of the DCEU, and along with Lindsey Beer on Sony's Silver & Black, a team-up movie about the Spider-Man characters Black Cat and Silver Sable. She is also writing the upcoming third Sherlock Holmes, as well as the newest adaptation of the role playing game Dungeons & Dragon. She is also announced to be working on M.A.S.K.: Mobile Armored Strike Kommand and Visionaries: Knights of the Magical Light.
Between Tomb Raider, Captain Marvel, Silver and Black, Gotham City Sirens and Artemis she'll have a series of female led movies under her belt by 2022.
Robertson-Dworet is a 2007 graduate of Harvard College. She wrote for The Harvard Lampoon[1] during her time there.
She is married to Vice Principals writer Hayes Davenport.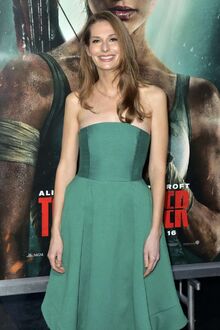 References